Datalogic QW2100 Barcode Scanner in Pakistan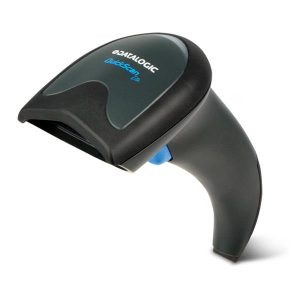 The Datalogic QW2100 Barcode Scanner series is Datalogic ADC's value line of general-purpose handheld data collection products. The Quick Scan Lite QW2100 linear imager is an entry-level product created specifically for reading long and truncated barcodes. QW2100 barcode scanner is perfect for use in retail, light manufacturing, document/bill processing, and banking/finance environments.
The QW2100 imager is small, and lightweight, and its ergonomic design is comfortable to use during daily operations. It offers fast reading performance on most 1D barcodes. Datalogic Barcode Scanner features a wide scanning angle with an extended scanning line which it is perfect for capturing longer and wider bar codes.
Datalogic Barcode Scanner Price in Pakistan
PC Technologies is providing the best possible prices for a barcode scanner in Pakistan. Now you can avail of cash on delivery in Pakistan. The barcode scanners are available at our main Lahore office located at an ideal location of Gulberg in Hafeez Center. Barcode Scanner price in Pakistan. Datalogic qw2100 barcode reader price in Pakistan.
Datalogic Barcode Scanner Price in Lahore
Barcode scanner price in Lahore. You buy, we deliver. PC Technologies is offering cash on delivery option for all online orders. For more point-of-sale products, pls explore our website.
Datalogic QW2100 Barcode Scanner Price in Karachi
The barcode reader of different models is also available at our Islamabad outlet which is located in Blue Area. We also have an outlet in Rawalpindi. You can also buy all the Point of sale hardware from our Rawalpindi store as well.
Datalogic QW2100 Barcode Scanner More Details:
A specially designed stand has been created for the Datalogic QW2100 imager which is light in weight, collapsible to use as a holder instead of a stand, and also has a 'movable head' for various angles settings. Additionally, the scanning line is thinner and brighter while allowing users to scan at wide angles without having to increase the scanning distance.
The QW2100 imager is available with USB interface options. The Datalogic Aladdin™ configuration software provides user-friendly features that simplify the start-up procedure, even for inexperienced users.
Datalogic QW2100 Barcode Scanner Price in Islamabad:
PC Technologies is shipping nationwide. Free delivery and free shipping are also available at PC Technologies in the whole of Pakistan. The Datalogic QW2100 barcode scanner is available at PC Technologies at the lowest price with 100% originality guaranteed in Pakistan.
---
Our Locations
Lahore: 0333-2811493 | 0331-0442080 | 0321-4388424 | 0323-4096430
PC Technologies
Showroom #Ground Floor 81, Hafeez Center, Gulberg III, Lahore, Pakistan. Locate us on Google Maps.
---
Islamabad: 0300-5359013 | 0302-5076789 | 051-2150184-5
PC Technologies / Electroline
Showroom # 7, Azeem Mansion plaza, AK Fazal-ul-Haq Road, Block F, G-7 Blue Area, Islamabad. Locate us on Google Maps.
---
Rawalpindi: 051-2811493 | 0300-9508677
PC Technologies
Showroom #Ground Floor 27, Dubai Orakzai Plaza, 6th Road, Rawalpindi, Pakistan.